Communications
The Avon Lake City Schools Communications Department is proud to serve as a liaison between the District and the community, ensuring that families, residents, and media outlets all receive timely and accurate information about our schools. We also strive to promote the positives within our district, promoting the achievements of our students, staff, and stakeholders. We are responsible for maintaining the district's website, social media, e-newsletters, printed newsletters, Quality Profile, and other promotional items as needed.
Avon Lake City Schools in the news
Avon Lake City Schools to recreate all district photo 100 years later (Morning Journal, January 21, 2023)
Avon Lake Marching Shoremen perform at Cheez-It Bowl in FLA (Chronicle Telegram, December 30, 2022)
Westview install book vending machine (Chronicle Telegram, December 21, 2022)
Monthly district newsletters
January 2023
December 2022
October 2022
August 2022
WELCOME CLASS OF 2036!!!
Parents/guardians, please plan to attend the upcoming virtual Kindergarten Info Night, Jan. 26.
Our online kindergarten registration will open on Wednesday, January 4, 2023 and run through February 24. Please note that the numbers gathered during this time frame help determine classroom and building placement for the fall of 2023. Your student must be 5 years of age ON OR BEFORE August 1 to register for the 2023-2024 school year. Please check back in early January for complete registration information.
District celebrates 100 years with special edition Avon Lake magazine #ALCS100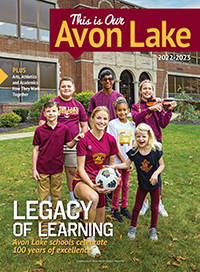 Click to view This is Avon Lake